About
Smithbilt

Industries, Inc.

SERVING CENTRAL FLORIDA FOR MORE THAN 40 YEARS

Smithbilt Industries, Inc is a family owned and operated American-made business. Smithbilt is the leading manufacturer of backyard storage buildings in Florida, and amongst the top 10 manufacturers in the US. Our company was founded in 1982 by Donald and Jeanette Smith during their relocation from Naples, FL to Auburndale, FL. Their son, Bryan, now runs the company with his wife Melissa. Tyler and Hayley, third generation of the Smith family, are also involved in the business and are being groomed to take over when Bryan and Melissa retire. We take great pride in our products and our commitment to maintaining the highest ethical standards in the industry. As a family, we believe in treating our customers, employees, and vendors with the upmost respect and honesty. Doing so has built strong relationships with the people we work with and has resulted in repeat business and referrals. Our core values continue to guide us as we strive to be the best in everything we do.

Thank you for considering Smithbilt Industries, Inc as your go-to for all your storage needs. We are confident that you will not be disappointed with our products or services. We look forward to serving you for many years to come!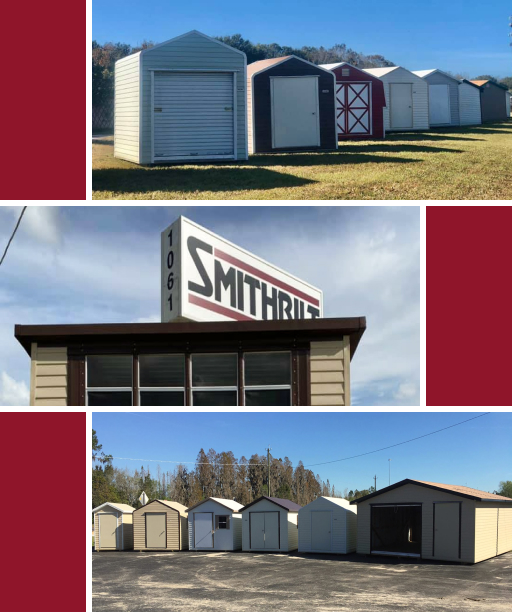 BULL SHED Will Exceed Your Expectations
STABILITY, SAFETY & SECURITY
A quick look behind our maintenance free, all aluminum exterior will tell you there's more to our BULL SHED than just good looks alone. Once you've inspected and compared our buildings firsthand, we're convinced you'll find Smithbilt quality unsurpassed.
The BULL SHED is designed to exceed any and all expectations required of a utility storage building required by state code. For instance, the BULL SHED is reinforced with heavy-duty galvanized steel frame anchors and the fully insulated doors on a BULL SHED are painted galvanized steel and attached to a heavy-duty aluminum frame ensuring stability, safety, and security.
See All BULL SHEDS
We Deliver & Set Up Each BULL SHED
PORTABLE BUILDINGS THAT WITHSTAND SEVERE SOUTH FLORIDA WEATHER
Each BULL SHED is delivered, set up, and properly anchored by Smithbilt on your site plus it's guaranteed against rust and corrosion for twenty (20) years. The BULL SHED is the industry's top of the line, extra tough storage building, built to, and exceeding Florida Building Code specifications. That means the BULL SHED is designed and engineered to withstand the punishment of even the most severe South Florida weather conditions.
Smithbilt's BULL SHED utilizes structural quality galvanized steel plates and framing fasteners, producing the strongest, most cost effective storage structure money can buy. Each Smithbilt BULL SHED carries an insignia that certifies the entire structure is in complete compliance with the Manufactured Buildings Act and has been inspected and registered with the State of Florida Department of Community Affairs.
A Smithbilt BULL SHED storage building is designed to be positioned securely and close to the ground on a super strong foundation system. Hidden from sight is our 2 x 6 fully pressure treated floor joists. The 3/4" tongue and groove, pressure treated flooring system is resistant to both termites and moisture. The entire structure looks hand constructed and solid, because it is.
The same kind of strength and sturdy truss system found in your home is employed in every roof of a BULL SHED, guaranteed for strength and sturdiness. No matter how tough a BULL SHED may be on the inside, its exterior is just as rugged. Also hidden from sight, all corners, roof edges and roof peaks are sealed with butyl vinyl tape and then covered with aluminum edging. All roofing screws are coated and include a neoprene washer to ensure a weather tight seal.
Delivery
Let's Talk
webmaster@seadev.com.vn
THE CHOICE IS YOURS AND THE POSSIBILITIES ARE ENDLESS WITH A BULL SHED UTILITY STORAGE BUILDING.
Fill the form below or Call us (863) 665-3767